Jon Meacham – Historian, Author and Journalist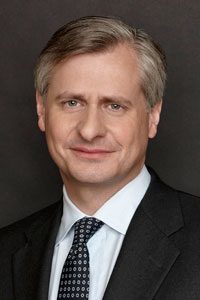 Presidential historian, Pulitzer Prize-winning author, and contributor to Time and The New York Times Book Review, Jon Meacham is one of America's most prominent public intellectuals. A regular guest on MSNBC's "Morning Joe," he is acclaimed as a skilled storyteller with a depth of knowledge about politics, religion and current affairs.
His bestseller Thomas Jefferson: The Art of Power was hailed by Fortune as "masterful and intimate" and made many lists of 2012's best nonfiction works, and American Lion: Andrew Jackson in the White House won the 2009 Pulitzer Prize for Biography. Meacham's latest presidential biography, Destiny and Power: The American Odyssey of George Herbert Walker Bush, debuted at No. 1 on The New York Times Best Sellers list in November 2015.
A native of Chattanooga, Tennessee, Meacham earned a bachelor's degree in English literature from the University of the South, where he was elected to Phi Beta Kappa honor society. He joined Newsweek as a writer in January 1995 and quickly became national affairs editor later that year. He also served as managing editor and was promoted in 2006 to editor-in-chief, a position he held until 2010.
A contributing writer for Time, Meacham writes for the magazine's Ideas section. He also pens "The Long View," a column in The New York Times Book Review that examines books "that speak to our current historical and cultural moment."
He has appeared frequently on television, including appearances on "Meet the Press," "The Colbert Report," "Real Time with Bill Maher" and Ken Burns' documentary series "The Roosevelts: An Intimate History." He also co-hosted "Need to Know" on PBS in 2010-11. His other books include Franklin and Winston: An Intimate Portrait of an Epic Friendship and American Gospel: God, the Founding Fathers, and the Making of a Nation. He is working on a biography of James and Dolley Madison.
Meacham and his wife, Margaret Keith Smythe Meacham, a Mississippi native, live in Nashville with their three children.
---
Past Speakers
2016
Tom Brokaw, American television journalist
2015
Teresa Sullivan, president of the University of Virginia
2014
Phil Bryant, governor of Mississippi
2013
Myrlie Evers-Williams, American civil rights activist
2012
Roger Wicker, U.S. senator
2011
Freeman A. Hrabowski III, prominent American educator and president of the University of Maryland, Baltimore County
2010
Ray Mabus, U.S. secretary of the Navy
2009
Bob Schieffer, CBS News correspondent
2008
Shepard Smith, American television news anchor on Fox
2007
Frederick W. Smith, CEO of FedEx Corp.
2006
Judy Woodruff, American journalist and author
2005
David Halberstam, American journalist, author and historian
2004
Haley R. Barbour, governor of Mississippi
2003
William Winter, governor of Mississippi
2002
Jeanne Shaheen, governor of New Hampshire
2001
James L. Barksdale, president of The Barksdale Group
2000
David Ronald Musgrove, governor of Mississippi
1999
Thad Cochran, U.S. senator
1998
Trent Lott, majority leader of the U.S. Senate
1997
Donna Shalala, U.S. secretary of Health and Human Services
1996 Summer
Daniel S. Goldin, president of NASA
1996
Daniel P. Jordan, president of the Thomas Jefferson Memorial Foundation Inc.